Thanksgiving is a time when one is supposed to feel grateful.  This year, though, I believe my gratitude is far more abundant than at any other time in my life.
One particular cause of such supreme gratitude is our condominium unit and the community we now live in.  Alice and I thank my cousins, Margaret Johnston and Carolyn & Jeff Levin, for investing in our vision, transforming us into stewards of a beautiful property overlooking the mountains of Washington.  If it were not for them, our place would not be as spectacular as the view.
24-unit condo community with a view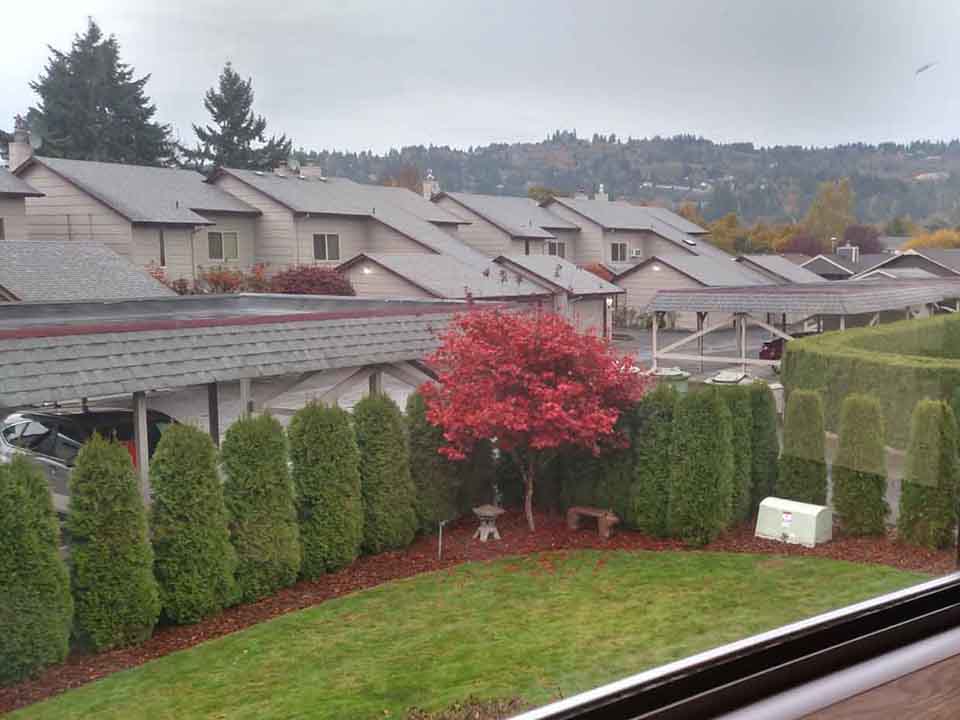 Take a peek outside my second-floor writer's office window.  That's one of several mountain ridges in the distance where a few developments punctuate the landscape.  Frequent rain events during the fall/winter obscure their top-of-the-mountain view more than ours, which encourages a certain personal, snobbish feeling of superiority.  And during an occasional burst of heat during the summer, a smaller ridge to the southwest shades our valley community an hour before dusk.
Inside the Loika/McCormick home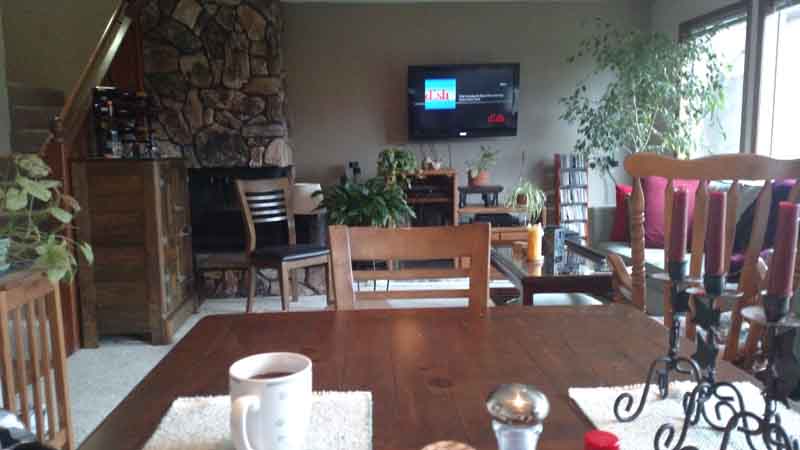 Our living room has become an audiophile's wet dream.  The television is mounted on the wall and the audio connected to my Bose surround-sound system.  Before we moved in, Reid Rasmusson, a local Longview painter and stalwart resident who has knowledge of our building's architectural history, applied several coats of paint to the entire apartment.  What stands out is how Alice directed Reid to reinvent a cranberry-red wall into a more-aesthetically pleasing olive-brown accentuation to an artistically constructed fireplace.  An added attraction, thanks to Bose: the acoustics are outstanding.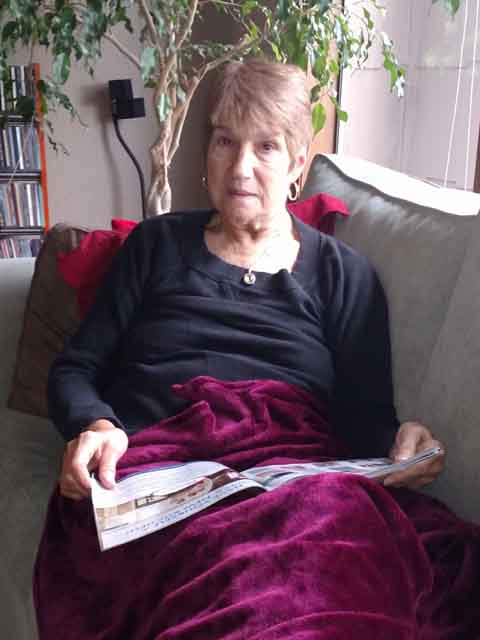 Therefore, one wouldn't blame Alice for reclining on our six-month-old sofa toward the entertainment center.  But that's not her usual position.  Alice lies in the opposite direction, sharing my outside view, but the downstairs window position aligns her 6-foot frame next to a riot of greenery.  Already, Alice is adding her creative touch to the outside backyard.
(Our cat, Millie, complains loudly every day of wanting to go outside and explore.  But we hear that bobcats, cougars and coyotes prowl about, so we admonish Millie for expressing reckless desires and keep her inside.)
After Reid finished painting, the carpet people showed up to execute our carpet and flooring plan.  Every old piece of carpet was discarded in favor of a tan-colored replacement, with a luxurious feel and look we enjoy today.  The carpet installers were finishing up barely moments before our movers were scheduled to arrive.  The movers?  That's a different story, and a future post will detail the story of that near-disaster.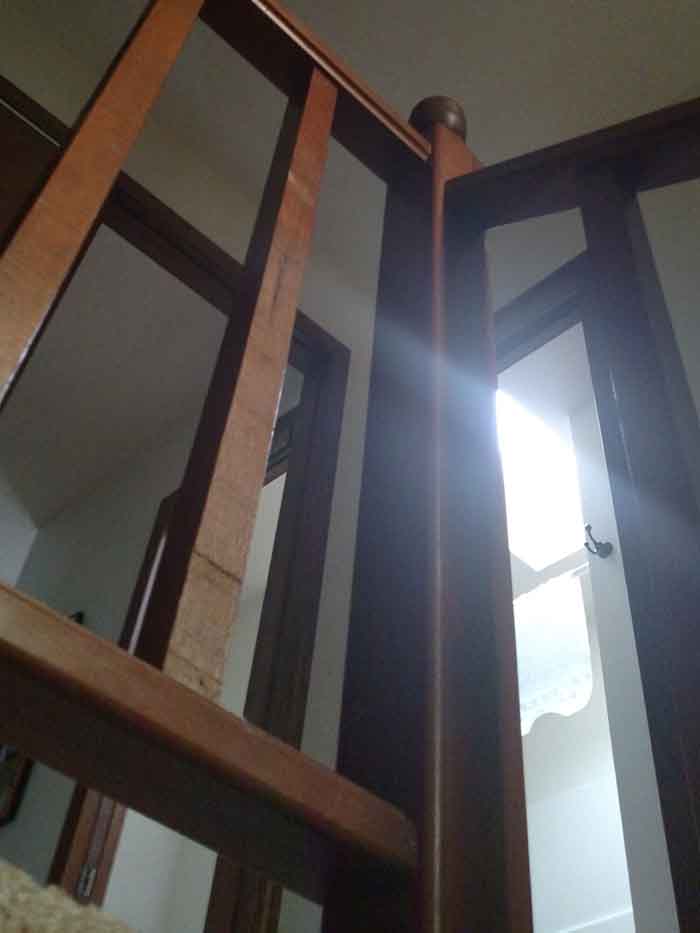 One particular view of the upstairs railing reveals light shining through the upstairs bathroom.  (We have 1½ bathrooms, by the way.)  That's sunglare coming through the bathroom skylight.  That's cool, isn't it?  A skylight for the bathroom?  Oh yeah, try to get that in a condo in Portland!
A feeling of community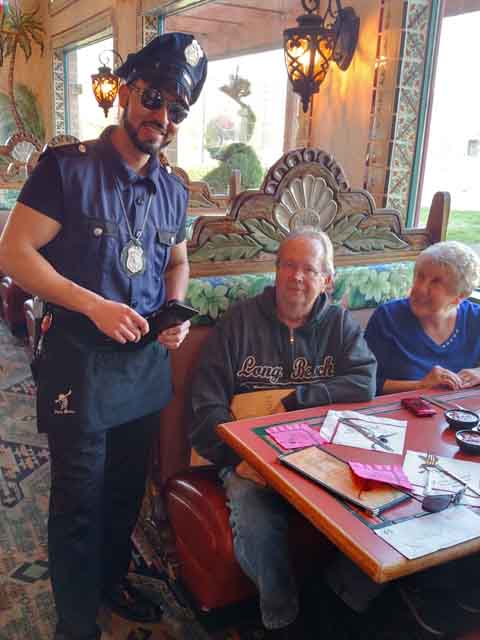 Our digs are so splendoriferous that I hesitate to include the generosity of spirit from our neighbors.  Nevertheless, I'm dutybound to report our next-door neighbors meet two criteria: quality and congeniality.  Terry and Carole Sumrall introduced us to a restaurant they favor: Fiesta Bonita Mexican Grill and Cantina.  Of course, our journey turned out to be a late afternoon on Halloween, so the tradition in town conjured up a wannabe for the Village People instead of a waitperson.
Other neighbors are equally generous with their time and talents.  Already, Longview is full of revelations, and the history of this town is worthy of more national attention than it gets.  This is a true community, and my future writing here may reveal what I call "living in a Gentile kibbutz."  I only wish I didn't have to drive to Portland to buy whitefish salad, a proper bagel and latkes.  Or cheese blintzes!  A full story about Longview, Washington will appear in a future post, or perhaps be contained in the book I committed to when moving West.
Teri's Restaurant is what's happening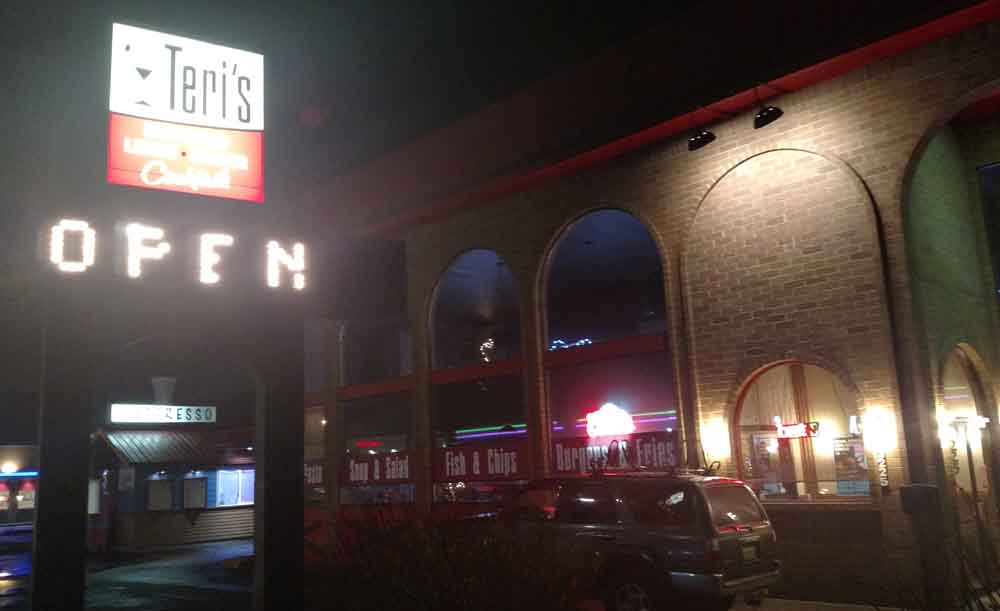 The photo at the top of this post was taken by one of the employees at Teri's Restaurant in our newly adopted hometown.  Besides a continuous dedication to provide restaurant fare a cut above the standard, Teri's is a hubbub for local musicians and their groupies.  (No age requirement to become a groupie.)  We met a dean from Lower Columbia College (in Longview, naturally) who got on one knee in front of us to encourage Alice to return to work for child care.  How is that for a welcome?
A quick apology
Please excuse the delay in getting this post written.  There were plenty of chores for me to take care of, not to mention the time I wasted while being hooked on DishTV during this college football season.  Yes, I am still functioning, sometimes badly, on the aftermath and life after a bladder removal surgery.
But I am far more than just alive, and I'm married to an Amazon woman who sets a pretty high standard for how she looks after me.  That's why every time she allows herself a genuine smile, my heart continues to go pitter-patter.
Dr. Seuss said, "You know you're in love when you can't fall asleep, because reality is finally better than your dreams."
I agree.  Life is grand, ain't it?