How can a man live as long as me without experiencing how deliciously suggestive it is to go clothes shopping with a woman?
Two weeks ago Alice and I made our way back to Portland's 23rd Avenue.  My palate enjoyed the avenue's delights before, and I was lured back once my taste buds demanded new adventures.
We found the pizza at Escape From New York Pizza as satisfying as our first, second and more tastings.  A triumph for consistency, that's for sure.  And the price of a large New York-style pie was the same as before, $20 plus $1.50 for each topping.
Not the case, though, for Kornblatt's Delicatessen.  The "authentic New York style" establishment is now owned by Daniel Sohn, and he relegated the delicious ricotta-laced cheese blintzes to a mere mention on Kornblatt's takeout menu.  In addition, Sohn raised the price for his previously featured blintzes to $8.95, up from the bargain $5 advertised in a shop banner three months ago.
I began to feel seriously bummed, but Alice and I walked over to Portland's retail outlet of Carlsbad, California-based prAna (635 NW 23rd Ave.), which specializes in women's and men's leisure wear.
Alice admired a long summer dress's color inside prAna's display window.  How appealingly unconventional it seemed.
Alice walked in as I dutifully followed.  Once inside, a lithe salesperson named Meghan Callaghan sauntered up to us and unknowingly opened the portal of a fantasy world.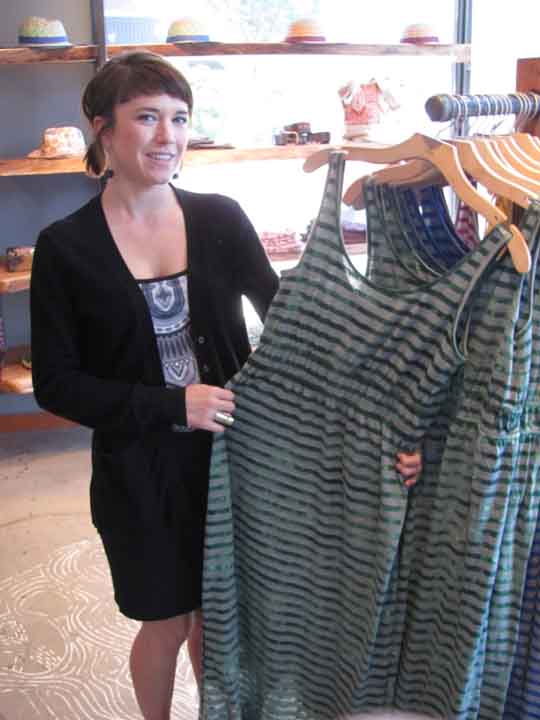 All of a sudden, I was encouraged to feast upon the vision of my woman wrapped inside a celebratory subtle summer dress.  I had no choice but to let my mind go, and tactile bursts of sensation ignited inside my fertile brain.
A few words of explanation here.  Understand that while creating, writers live alone – at least, in their heads – and I routinely disappear from Alice for hours on end while at home.  I appreciate it when she wears the same garments, because routine appearance allows my mind to ponder upcoming subjects for my writing.
But inside this chic clothier, I discovered how a woman rules my world.  Provocative images of how the dress with a flowing skirt would fit snugly in and about Alice overtook my gray matter, and I readily submitted.
This saleswoman Callaghan was something else, too.  As she absentmindedly caressed the skirt's fiber, I imagined doing the same, but with Alice inside of it.  Callaghan was tempting me with my own woman; what a thing to do!
Is this a specialty of salespeople in apparel shops?  Do they wear nothing but trendy outfits utilizing model-like swirls and twirls?  Are Alice and I supposed to channel Callaghan's desirability into our own exclusive whirlwind if I buy the dress?
What is motivating me?  Is this saleswoman a specialist in giving other women the means to hypnotize would-be paramours?
Well, I bought the dress, promising to write about the experience in exchange for a substantial discount on its $80 price.  The deal was made right there, and Alice left the store with a new way to bedazzle me and our friends.
I'm proud of the dress.  But as a man, I'm ashamed to admit this is the first practical piece of apparel I bought for a woman.  Other than shopping for Victoria Secret unmentionables, I never knew the erotic thrill attendant to buying something less explicit that the woman in my life could wear.
I guess I'm a bit of a cheapskate.  Also, I'm dense.  But no wonder Callaghan has become prAna's Portland assistant manager.
She has the power to cloud men's – and women's – minds.  And we both left Portland's Northwest 23rd Avenue with more good memories to share.