All photographs by Alice McCormick.
Two recent weekend trips into pinot noir country served as a primer on savoring great wine.
Four visitor-friendly wineries were chosen at random.  All appeared to put their best foot forward in welcoming curiosity seekers and gourmands with learned taste buds.
Cooper Mountain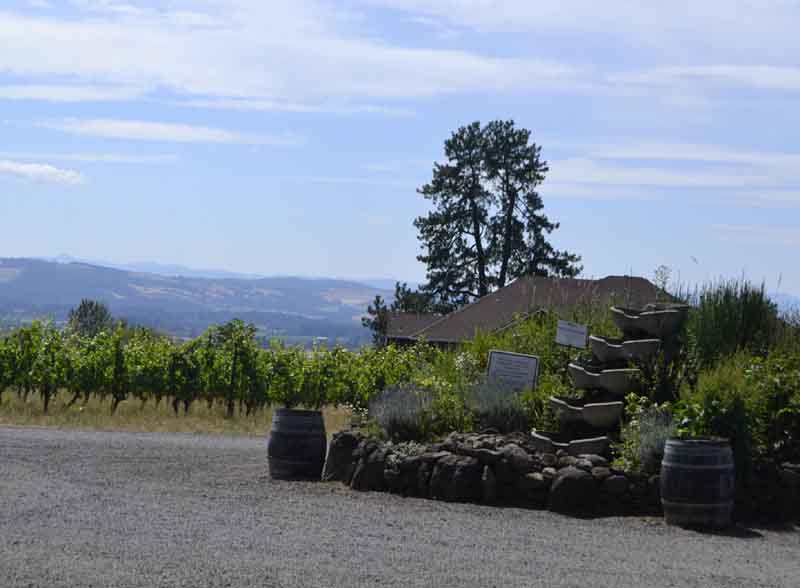 Cooper Mountain Vineyards, 20121 SW Leonardo Lane, Beaverton, demonstrated you don't have to venture far from Portland to discover great wine.  White wine devotees may find its pinot gris, chardonnay and pinot blanc to their liking, but five different pinot noirs gave my palate a complete workout.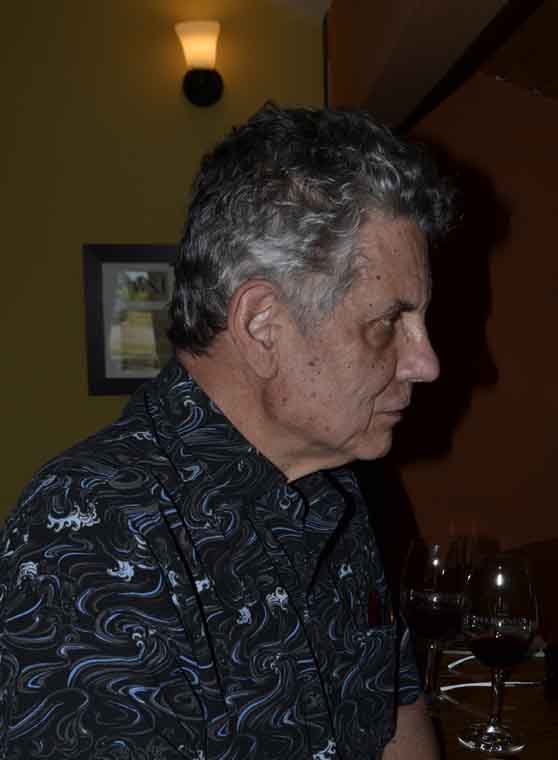 Ranging in price from $20 to $50 a bottle, the five wines offered subtle differences that elicited reactions from "very nice" to "wow."  Seemingly unpretentious, Cooper Mountain offers a $15 five-sip tasting as well as Friday "Neighbors Nights," where residents commune with nature and each other while enjoying music from blues, country folk and progressive rock genres.
One doesn't become a true connoisseur without practice, though, and we found the hosts at each winery do their best not to overshadow various vintages with their refined sensibilities.
Ponzi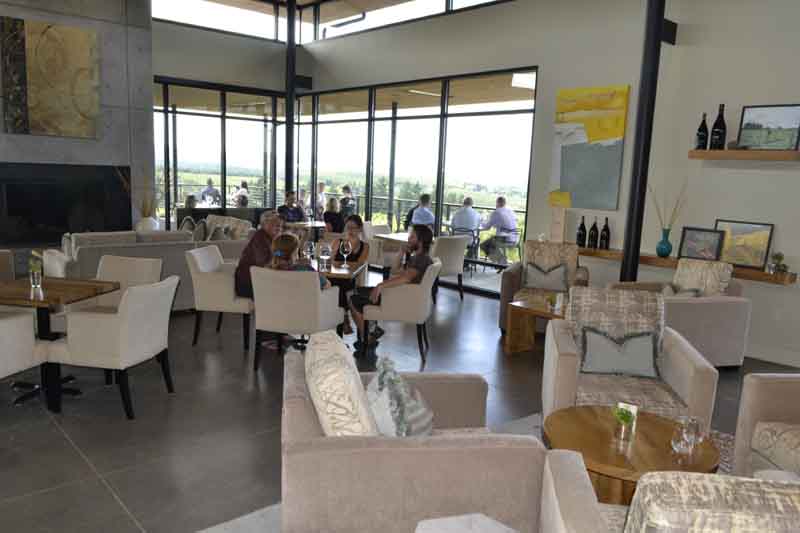 Ponzi Historic Estate, 14665 SW Winery Lane, Beaverton, seemed more commercial, albeit on an elegant scale, with pinot noirs topping out at $100 a bottle.  Alice and I found their wines to be pleasant, but the spectacular architecture and décor were overwhelmingly distracting.  Ponzi organizes musical soirees on Sunday evenings from 6-8 pm that feature Latin jazz, Brazilian rhythms and swing, costing $20 per person at the door.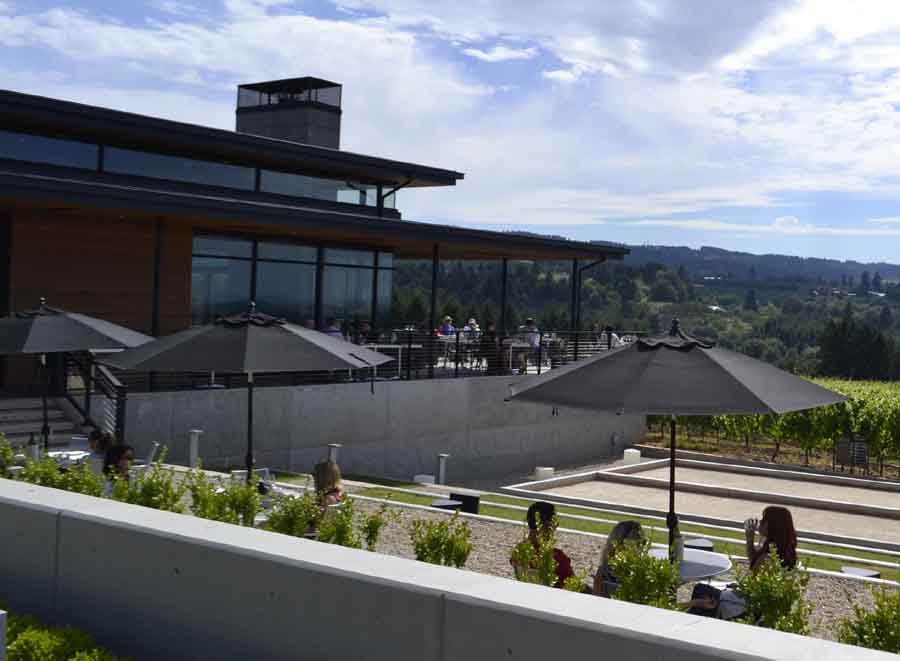 Ponzi's highlights are its scenic views of surrounding valleys and Italian inspired architecture.  Popular with the smart set, I felt isolated from it all, wondering what it took to focus on a terrific pinot noir.
Raptor Ridge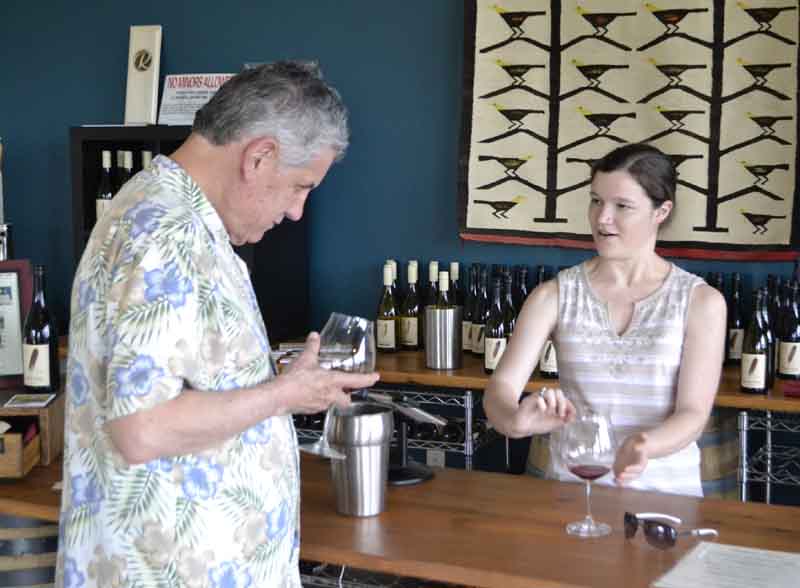 Dreams of a fine, more informal winery came true atop a mountain range at Raptor Ridge Winery, 18700 SW Hillsboro Highway, which leads south to the George Fox University-based town of Newberg.
The photo adorning the top of this post reflects the subtle grace of Raptor Ridge.
Jonathan Ziemba, Raptor Ridge's onsite wine connoisseur, displayed a vast knowledge of fine wines.  His presence adds elegance to this winery, where owners Annie and Scott Shull offer a biweekly "summer lunch series."  For $50 a person, audaciously sublime menus are prepared by renowned regional chefs known for pairing their culinary delights with the winery's vintages.
Only 20 diners are allowed to make reservations so as to assure Raptor Ridge's intimate ambience.  An example of fine dining to be served up by Chef Irene Bonn Laney: yellow lentil dumplings with summer vegetable relish, roasted broccolini and arugula salad, lemon butter chicken with spinach and caramelized shallot couscous, topped off with carrot cake with maple cream cheese frosting.
Yum!
Dobbes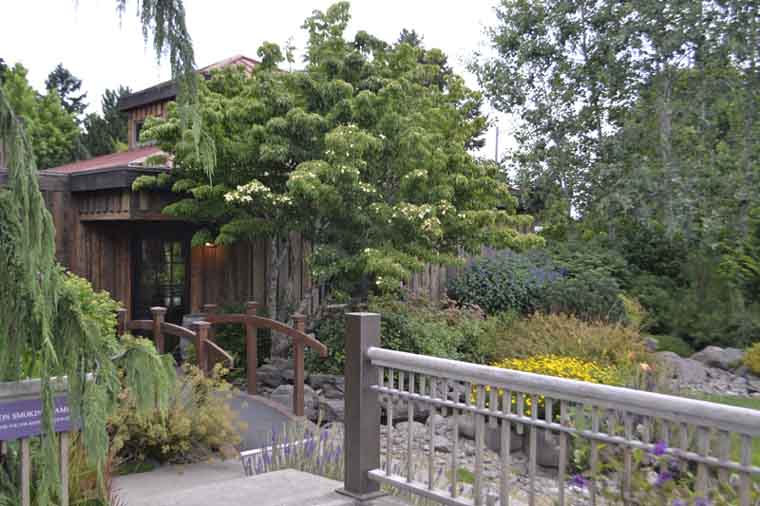 With visions of wine tastings running amuck, I could not end our two weeks of sampling fine wineries without a trip to Dundee.  The Dundee Hills are legion for pinot noir, and we haphazardly chose the Dobbes Family Estate, 240 SE Fifth Street, for a quick tour.
Sure enough, Dobbes' offerings are highlighted by such pinot noir as well as the Rogue Valley in Southern Oregon.  The fee for a flight of wine tastings is a modest $10, and the wines range between $45 and $65.  Don't overlook the quality of pinot noir from the Rogue Valley; there's a good reason Dobbes imports it here.
Joe Dobbes started his company in 2002, and today the company owns 214 acres of vineyards.  Dobbes offers a "family circle wine club," priced at three levels with tempting discounts on bottles of featured wines.  The surroundings at Dobbes' estate are eye-pleasing enough to be a tourist attraction, seemingly part and parcel of each winery in the area.
Wrapping Up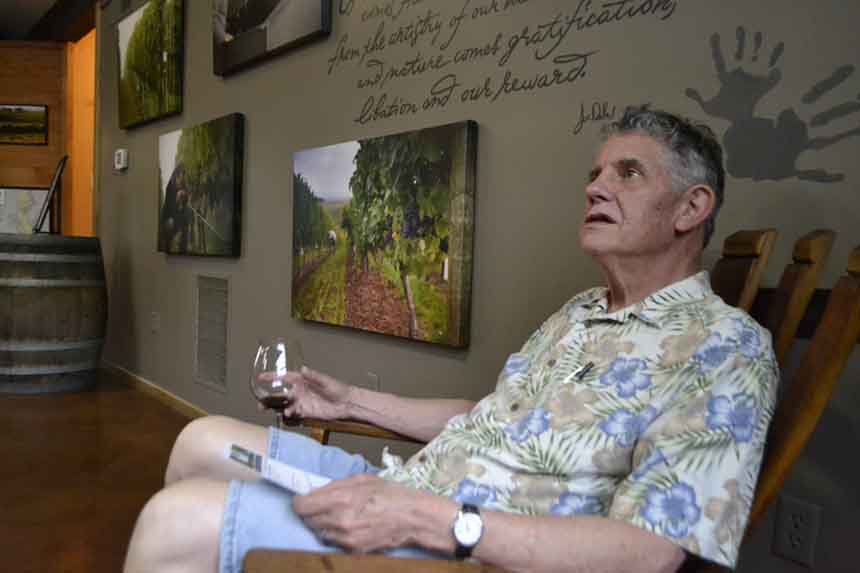 Yet isn't it the wine we ultimately seek?  Our outings encompassed four 4-star wineries, so it's not premature to suspect plenty of visits await us in future years.  The Willamette Valley south of Portland is rich in pinot noirs, and I hereby confirm the wayward tourist will enjoy the experience.  Some of these grapes are becoming legends in our own time.