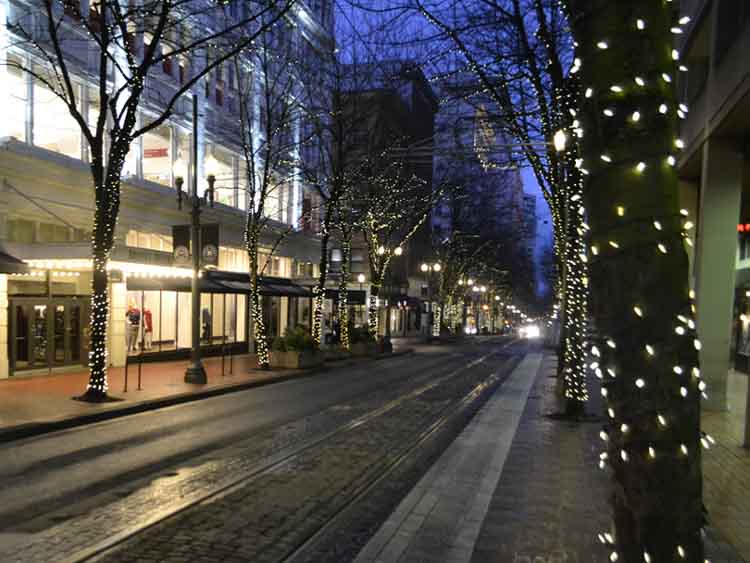 Hillsboro offers one kind of life.  Because Alice and I live less than a mile from a Trimet light-rail station, occasionally we savor a completely different life in Portland.
Don't misunderstand me, though.  As an organic additive to Hillsboro's Unitarian Universalist choir, I relished the aftertaste from our Christmas Eve caroling service.
Our choir's performance of "Welcome Yule" was killer!  Although Minister Christine Riley advised no applause was necessary, the UU congregation couldn't contain themselves.
Because music is indeed the universal language, our Christmas Eve was made ultra-merry by the congregation's enhanced sensibilities.
Christmas Day, though, had a different feel.  Alice and I drove next to paved walking paths to the easily accessible Washington County Fairgrounds rail station.  A 38-minute light-rail trip through tubes 260 feet underground – beneath the Oregon Zoo and the International Rose Test Garden – initiated a welcome unveiling from holiday lights adorning downtown Portland.
We disembarked at the Portland Library, walked north on 10th Avenue for four blocks just beyond Stark Street, where on the west side darkened plate-glass windows precede a roped-off sidewalk box office.  Beyond the ticket counter was a sophisticated neon-lit interior awaiting us as brand-new patrons of Living Room Theaters.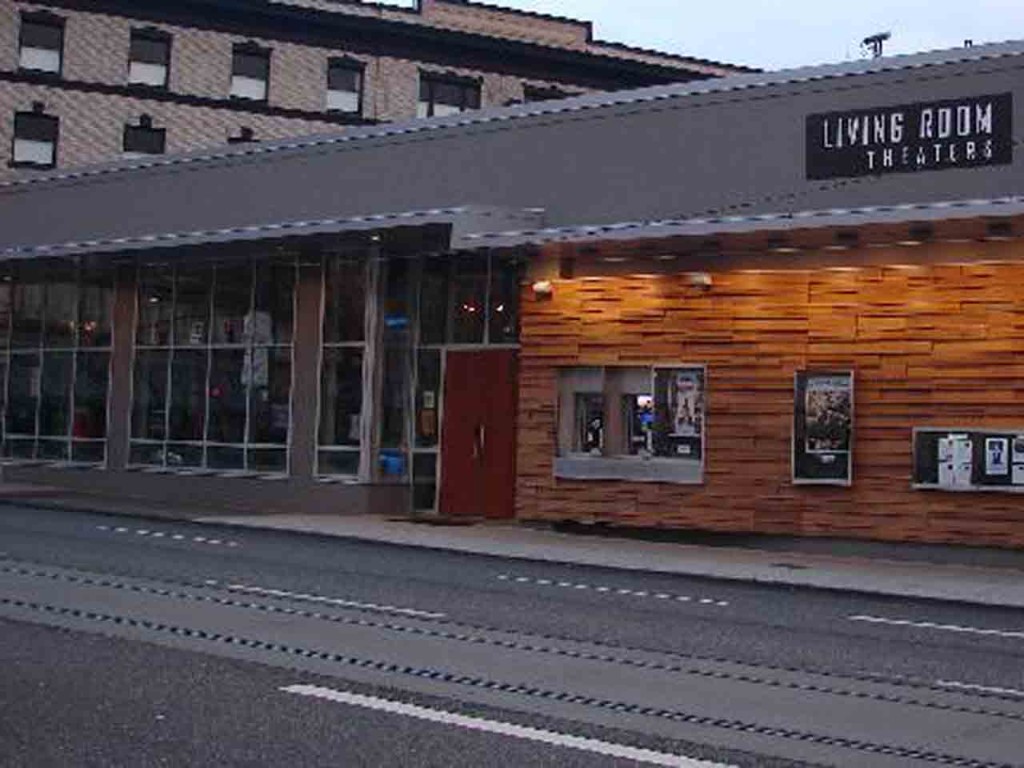 On one side was a fashionably holiday-garbed hostess seating customers in a neon-lit bistro bar.  On the other side are six modest, but extraordinarily comfortable, mini-theaters that can seat up to 40 people.  Each auditorium, composed of five rows of eight seats, offers leg room fit for a czar.  And the auditoriums' front and back rows have extra space to accommodate tables.
Tables?  Patrons can prearrange to be served any items from Living Room Theaters' inventive tapas menu.  Food selections are priced at $6 or $8 a la carte, plus a full bar offers mixed drinks, fine wine and micro-brews, apparently a Portland accoutrement to worthwhile entertainment.
As for the entertainment bill of fare, it's composed entirely of art films, either in the King's English or an exotic foreign language.
Not just any art films, mind you.  These are movies currently shown to hip New Yorkers in the Big Apple's avant-garde districts.  And although seeing "The Interview" was all the rage, we opted for something different and daring: "Force Majeure," shot on location in the French Alps.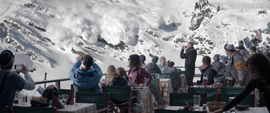 In the film, a Swedish family of four encounters an apparent avalanche whose force threatens to engulf them all.  The father figure morphs into survival mode, running away to save himself, but deserting his wife and two pre-teenage children.
The psychological impact of what seems like an act of cowardice exacts emotional outbursts, asking us to inwardly examine the traditional roles we expect to portray in family life.  The wide-screen photography captures the loneliness and danger routinely ignored by amateur adventurers in similar tourist meccas.
Anyone who has skied near Mt. Hood should find expansive shots of stanchions supporting skiers' cable lifts to be familiar.  And I was impressed by the Dolby Surround Sounds from controlled avalanches routinely created by strategically placed explosives during the overnight hours.  The realistic bass level rocked my world, that's for sure.  You can watch clips from the movie here.
I won't ruin the movie's ending by saying any more, other than revealing that reviews from today's respected critics give it high marks.  And while watching the movie, I savored a mixed drink with rye whiskey, lemon juice and maple syrup.  I also feasted on a spicy tuna roll, created fresh from scratch, as well as four deviled eggs.  Alice enjoyed an arugula salad with pita bread, as well as a delicious glass of zinfandel.
Total cost: $38 on food and drinks, another $14 on senior tickets and that's all.  The round-trip train rides on Christmas Eve and Christmas Day were free of charge.  Indeed, the promotion ensured a good time by both of us.
We never concerned ourselves with threats made public by Sony Pictures for its non-cancellation holiday premiere of "The Interview" shown in an adjacent auditorium.  And as pleasant scenery came into view through well-maintained, routinely clean giant windows during our train ride back to Hillsboro, we wondered: Was the controversy created to give national press to a critically unimpressive movie?
We didn't care.
We were treated to a good Christmas Eve and Day.  The only thing left to end our annual Yuletide holiday was to find an open Chinese restaurant.  Fortunately, Hillsboro has plenty, so that was no problem.  Besides, we had plenty of questions posed by "Force Majeure" to chew on.