The photograph above is the last image taken of Alice McCormick, and I am the lucky guy who took this picture. Alice and I were on the verge of returning home from the north side of Vancouver, Washington, where we "scored" a large package of Kirkland toilet paper during Costco's senior shopping time. Twenty-four rolls, oh boy!
On the drive back home, Alice must have been musing about something, because she was notably silent. And once we sat down in the living room, she asked me to promise something. As I think about it now, I wonder if Alice knew she was close to leaving this gray-green planet.
"Mason, I need you to promise me something," Alice began.
"Oh sure," I responded. "What is it?"
"Mason, I want you to promise me that you'll start writing again," Alice said seriously.
"Well," I said, "I've stopped [rideshare] driving. That means I have the time to do it."
Alice looked into my eyes, and said, "Promise me."
I mulled it over for less than five seconds, and muttered, "Yes, I'll go back to my writing."
Alice nodded to show her satisfaction, stood up, and went into the kitchen to put our Costco goodies away.
(Alice managed me so much that I was left few tasks in which to reciprocate. She simply wanted to witness me make a bona fide attempt before she took over.)
I look at the featured picture above and wonder what Alice was thinking about. In the almost 10 years living together, Alice was consistently good at concealing some pretty serious things.
I have no clue what Alice knew on the eve the day before I found her body wearing a faraway, wistful expression. (Alice would wake up early each morning to putz around the kitchen, cuddle the cat, open the blinds and gaze at the nearly 1,000-foot-high hill north of our development before coming back to bed.)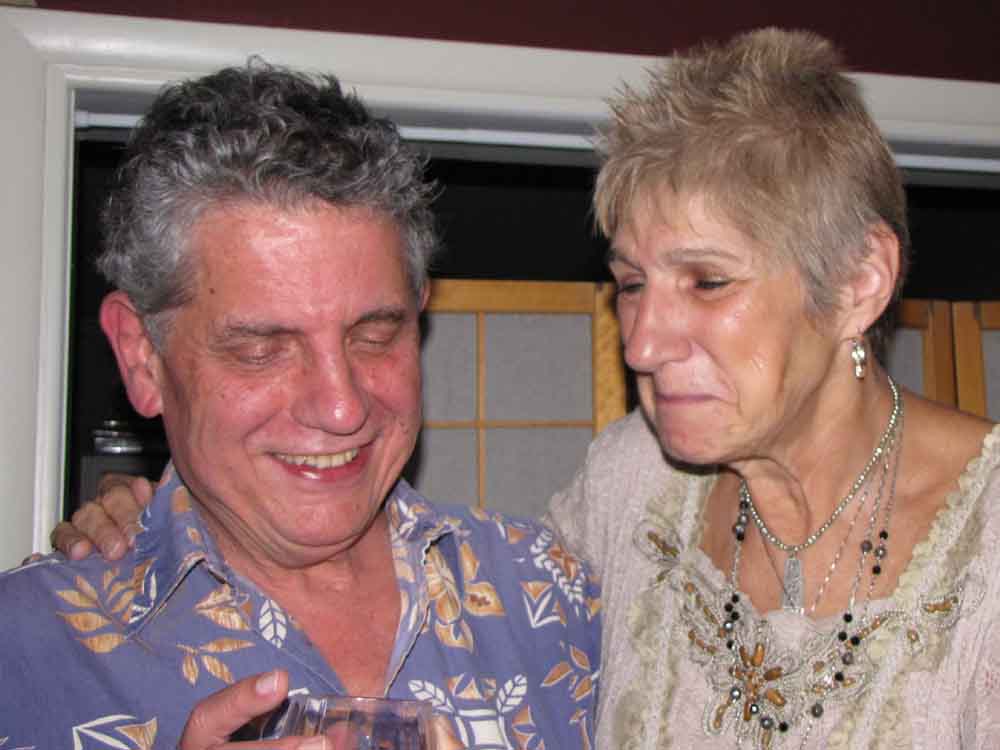 And now, I know I must write, I cannot screw around, I must make good to my promise, because Alice is all around, watching and guiding me. Dammit, I've already written one book, got it published, chronicled some major bands in concert (the Marshall Tucker Band, Heart, Norah Jones, Commander Cody and the Lost Planet Airmen), and won the heart of Alice McCormick, a remarkable denizen of a historic Pennsylvania town known as Doylestown.
My grandmother was a librarian, my mother was an English teacher and my father was a professional musician.
I went to private school in Princeton, N.J., and do I have a tale to tell about being there! Imagine a boy from Miami thrust into an environment where Albert Einstein was known to stroll, and being schooled with fewer than 8 children per teacher.
Twenty years later, the managing editor, Gloria Brown Anderson, at the Miami News increased my workload until I had to drop out of Florida International University in the late 1970s. Anderson justified this tactic by confessing she did not want to have an unknown scholar destroy a "natural gift."
In 2002, I wrote a book: Gulag to Rhapsody: A Survivor's Journey, for Paul Tarko, who was imprisoned in the same Soviet workcamp later occupied by noted Soviet dissident Alexander Solzhenitsyn. (After a literary agent showed interest, Tarko decided to self-publish.)
After promoting the book in Hartford, Connecticut, I discovered the Pennsylvania borough of Doylestown (30 miles south of Princeton), where I met Alice McCormick, although, in fairness, I say she met me. I have never been loved by anyone so unabashedly, so flagrantly, so wholeheartedly and so fairly. Yes, Kailey, you're right, Alice was amazing!
So give a lot of credit to Alice for this decrepit creature I am becoming again. Every time I sit down to write something new, I'm fulfilling my promise to Alice. What comes from these slender fingers dancing over the computer keyboard is a celebration to that long-legged lady. Each phrase is a commitment, revisited over and over, checked and re-checked for readable style.
But here's the amazing part: Alice made me a promise eight years ago. She said that when she disappears to an unnamed place, I would find a hidden message inside something I used, but a place where I seldom looked. She giggled when she told me.
Three days ago, in the top drawer of a small bureau in my writer's office, where Alice had commandeered some of her possessions, I came across a Post-it note written by Alice, written on Dec. 22, 2011, approximately three months after our commitment ceremony: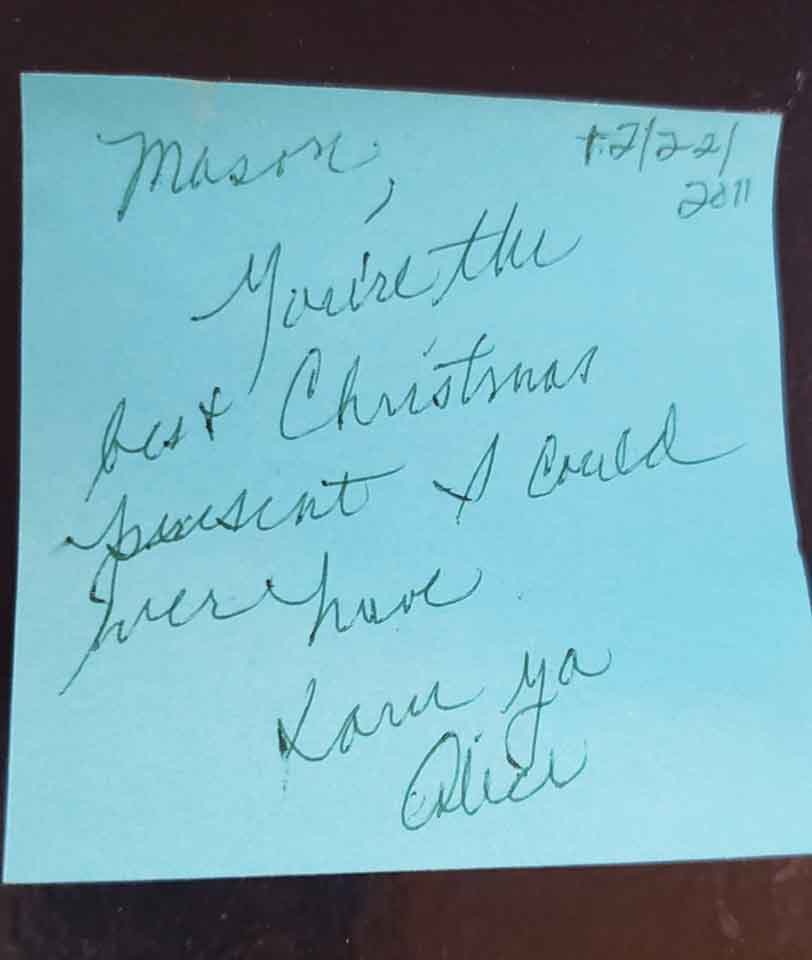 I am honor-bound to follow up what I promised. Alice is all around me.
I have begun the book.
Members of the Aphasia Network created a GoFundMe page to support me during the time ahead. To see their message and hopefully donate, follow this link Alice was amazing