Forty years ago, I lived in Miami, Florida, a resort city where I grew up, although born in Manhattan. Being a Miami Dolphins fan had become part and parcel of a true Miamian, although the team was experiencing a so-so year. Nevertheless, the usual mild December weather, savvy tourism officials and our usually competitive gridiron team attracted ABC Sports to reschedule the Dolphins' intra-divisional rivalry with the New England Patriots onto Monday Night Football.
Those were the days of local pro-football TV blackouts if games didn't sell out 72 hours before kick-off, so fans like me who couldn't afford to squeeze into the Orange Bowl were relegated to listening to the radio broadcast on station WIOD-AM.
On December 8, 1980, through the third quarter, the game had been lackluster, each team only managing to put up 6 points on the scoreboard. I lay restless on the bed, my imagination only stirred by the vivid play-by-play narration from Rick Weaver as Hank Goldberg added color commentary. As the quarter ended, the usual two minutes of commercials filled the warm night air.
Before the perfunctory station ID could be heard, though, a stern voice announced, "We interrupt this program for a news bulletin." About 10 seconds of "dead air" followed, until the sound of a microphone moved across a table and an out-of-breath announcer uttered, "John Lennon has been shot in New York City in front of the building he loved, the Dakota, by Central Park." He paused only a moment to clear the emotion from his voice to add, "We have confirmed that he was shot dead, killed by an unknown assailant. We now return you to our regularly scheduled program."
I was stunned. Apparently, so were approximately 80,000 "Dol-fans" packed inside the Orange Bowl who, like me, were listening on transistor radios. It became impossible to tell the audio feed of the game's broadcast had returned, because all one could hear was silence. The usual buzz of the shocked crowd disappeared, and it was heart-breaking. Simon and Garfunkel had it right; "Hello darkness, my old friend."
"The Sounds of Silence" were deafening.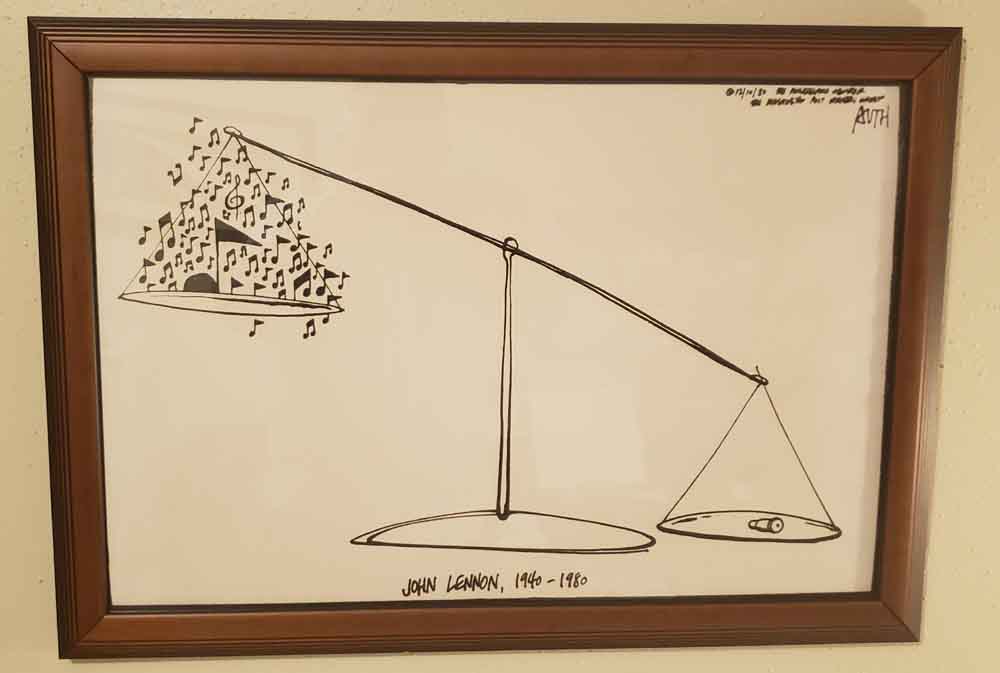 Two days later, I contacted the clerk's office of the City of Miami Commission to get myself on the next meeting's agenda. In my grief, because I heard a move was afoot in New York to reserve a section of Central Park called "Strawberry Fields" as a remembrance for Lennon, I hoped to do the same locally. A lot of "snowbirds" from New York migrated to our city during the winter. The park downtown had been officially named Bicentennial Park in 1976, and because of the newly established "New World" theme being sought for the area, I wanted to rename the park, "John Lennon New World Park."
I contacted Miami's top deejay, Rick Shaw, and asked him to join me at the commission meeting to stir the community into action. I also contacted Tony Auth, Pulitzer Prize-winning editorial cartoonist for the Philadelphia Inquirer, because his stunning depiction of the "scales of justice" vividly showed how one bullet outweighed the litany of music Lennon created. Auth generously blew up his cartoon and mailed it to me, which a local artist supply shop then framed.
Rick Shaw and I were virtually ignored. We sat through two hours of interminable commission procedural nonsense, our pleas ignored until our cause was referred to an obscure committee, who refused to hear the petition. Miami is not known for its progressive ideology, and the idea of a memorial to a radical "leftist" was summarily buried along with his memory.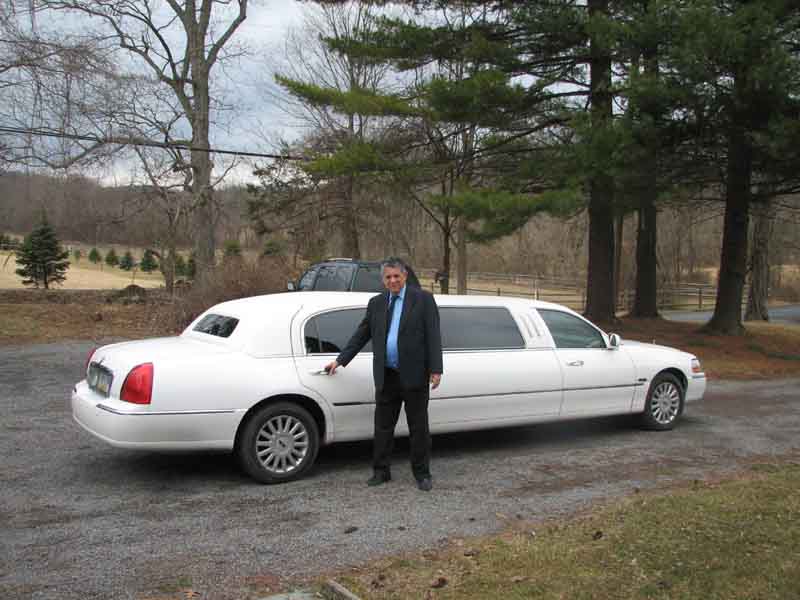 When I left Miami in 2003, I found a new home base in the outskirts of Doylestown, Pennsylvania, where I began to make a name for myself as a photojournalist for the Bucks County Herald. I was only paid a pittance for my work, some of it making the front page, so I kept the wolves from the door by working as a limousine driver.
Bucks County is regarded as a playground for bored Manhattanites, boasting residents best described as well-heeled who commute to the Big Apple, only 80 road miles away. That's how I became a regular driver for a prominent public relations partner on Madison Avenue firm who owned an apartment at 1 W. 72nd Street, better known as the Dakota building, where Lennon was assassinated.
Although I drove the six-passenger limo shown above on "nights on the town," I regularly negotiated the Hudson River's crossings in a Lincoln Towncar, my heart leaping into the throat each time I pulled into the building's secure alcove, avoiding the stare of camera-toting tourists looking to impose upon the building's apartment owners.
One night while awaiting my passengers to arrive, a well-dressed, dark-haired woman with exotic features spoke to me:
"Hello there," she said. "Do you know who I am?"
I looked around; my passengers had yet to arrive. "No, I don't think so," I stammered.
She answered her own question, saying, "I'm Lauren Bacall."
My mouth dropped open. Lauren Bacall? Out of the blue? Humphrey Bogart's heart-throb?
Before I had a chance to find my voice, my passengers arrived, and I was summarily engaged to load their bags for my humble position as a chauffeur in Bucks County. As I carefully backed out of the Dakota's alcove, I looked around at the cameras clicking as tourists were drawn into the macabre circus-like sidewalk where Lennon was killed.
What a coincidence, though. I never bragged about my attempt to honor John Lennon back in Miami. I doubt my passengers would have cared; they lived in a world far different than me. But I will never forget the hallowed ground on which I walked, because John Lennon and Yoko Ono's artistic expressions made a difference in this war-weary world in which we live. And their activism caused me to recognize my Quaker identity.
All they were saying – 40 years ago – was, "Give Peace a Chance."