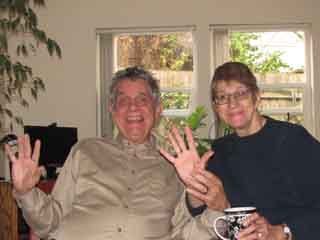 Alice and I are breathing a huge sigh of relief.  At 3 am today, a Pod containing most – or some – of our stuff began its long transport from Hatfield, Pa. to the Kelly Point storage facility outside Portland, Oregon.
Already documented on this website were the roadblocks and obstacles faced, so there is no need to be repetitive.  In updating our experience of arriving high and dry in Oregon seven weeks ago, though, it's necessary to relate that I took a leap of faith on Nov. 5th and paid Pods the shortfall of $1,511 on a third-party account.
Since then, we did not attempt to communicate with our former neighbor.  Instead, I nervously sat on pins and needles.  If he had further criminal intent, our former man Friday could have ordered the container back to Doylestown.
Confirmation came a few minutes ago, though, that the shipment is on its way.  Our supposed Good Samaritan-turned-nemesis is past the point of no return.  At long last, our stuff is scheduled to arrive Wednesday, Nov. 19.
As this episode unfolded, I never knew how much it would affect me.  Sleep-deprived nights caused friction between Alice and me.  Conversations at bedtime revolved around treacherous financial obligations, and I expressed little joy.  Without good clothes, my press clippings, Alice's medical records, warm winter coats and precious family memorabilia, I was in the darkest of moods.
My dispirited nature came to a head last Sunday.  At a Unitarian Universalist (UU) church service, the sermon's topic – "the notion of evil" – caused me to come forward before the congregation and spill my guts for an interminable period of time.
Since then, I officially joined the choir and have resolved to keep my mouth shut unless someone spoke to me.  To make amends, I want to uplift the congregation with accounts of resolution as Alice and I seek to restore ourselves to some semblance of financial health.
Creating this website has turned into a godsend.  These electronic submissions are taking on a life of their own, as old friends, newfound ones and relatives offer constructive advice and comfort.  I don't have a crystal ball to see the future, but the people who regularly visit this site and offer feedback – public or private – truly reveal unmatched quality.
I could not be prouder of the support and your insight.  Thank you.