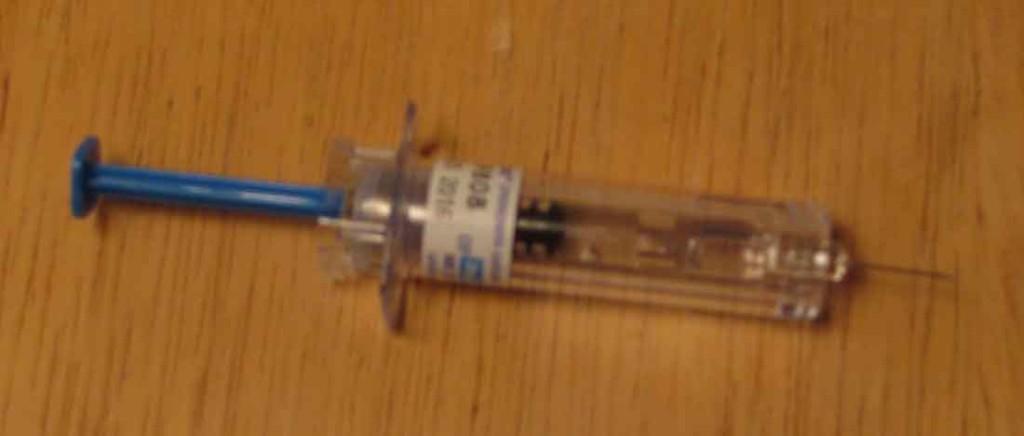 The photo above is slightly out of focus, and that's all right.  Because that's the way I remember the syringe.
It begs a penultimate question:  What would you do for the one you love?
As a child, I abhorred needles.  Whenever I waited to receive a vaccination, I would cringe.  At our family dentist's office, the moment the kindly, spectacled doctor reached for a hypodermic to numb part of my mouth with Novocain, I grasped the handles of the patient chair so tightly my knuckles turned white.  And that was minutes before the threatening needle was removed from a drawer and positioned near a tooth that ached.
Watching excess Novocain squirt from the tip of the needle caused my pulse to race.  I knew then I could never opine for a career in the medical profession.  How could interns sit in a surgical theater to watch a real-life operation without throwing up?  Good luck, Charlie.  See you in scrubs, Maryjane.
So after Alice was released from rehabilitation to come home with me, I never imagined what horrible task I would be expected to perform.  Give my wife twice-daily injections of enoxaparin, commonly known as Lovenox – in the stomach an inch from the navel, no less.
What torture, what anguish.  Could I walk through a pit of fire for my lady love?  Would I lay down my life for her?
The first injection was the worst.  "What if I hit a blood vessel?" I wondered.  Could the needle do physical harm or cause unbearable pain?  Nine hours after being released, now lying on our bed, she exposed her belly and looked down at me.
I removed a plastic cap unleashing the profane needle and stared at Alice's abdomen where previous injections caused black-and-blue bruises.  Would I be responsible for more horrendous scarring from previous body blows?
I called to mind the 45-degree angle at which I was instructed to inflict unfathomable distress.  I flicked the top of the syringe with my forefinger to position the air bubble atop the fluid.  Finally, I stared at the area I was going to attack, moving the needle back and forth uncertainly.
I cursed my timidity.  "I can't wait forever," I admonished myself silently.
In one fell swoop, I pierced her skin and pushed the needle deep as Alice gasped, slowly pushing the lever until the 30 milligrams of enoxaparin was emptied.  Pressing hard against the top of the hypodermic device, I caused the needle to withdraw automatically into its plastic housing, bringing to an end our mutual ordeal.
For the moment, that was.  I repeated the dastardly deed five more times at 12-hour intervals.
On Monday, March 23, as I turned 72, I escorted Alice as instructed to Kaiser Permanente's Westside Medical Center where a skilled technician drew a vial of blood.  If all went well, I was told, we might be granted a reprieve.
Alice showed him compassion and honesty.  She complimented the tech on how little pain his experienced hands caused.  And she spoke perfectly.
As the rest of the day unfolded, she and I waited for the results, jumping each time the phone rang.  Alice had prepared four birthday cards earlier, but neither of us was ready to open any of them on this day of traditional celebration.  We hoped for good news to free us from an ungodly routine, plus medically empower Alice to imbibe wine anew.
When we heard nothing by 5 pm, nervousness set in.  Alice prompted me to leap into action.
I tried every phone number that seemed plausible for an informed interpretation and set us free from our emotional pain and suffering.  Ahhhh, Alice was fine, I was the nervous Norris.  What a wuss I am!
Each query ran into a roadblock, though, and sure enough I began to consider the worst.  Hope for the best, but prepare for the worst is my motto.
Suddenly, the phone rang.  It was Kaiser Permanente's anticoagulation nurse, April!
For what seemed like an eternity, April offered a litany of warnings and made us aware of potential threatening side effects from various medications that could require immediate transport to KP's emergency room.  Then she broke the happy news.
No more injections were necessary!  And Alice could have a glass of wine, too!
Half an hour later, we feasted on a sumptuous dinner of pork chops, thick and juicy.  And Alice lovingly presented me with my birthday cards, each of them meaningful.
By 8 pm, we drove out to Tanasbourne's Bugatti Restaurant, where Alice feasted on a slice of tiramisu and a glass of wine, and I exalted over the culinary-splendid spumoni.
Before we left, as we were the last patrons to leave (Bugatti's closes at 9 pm on Mondays), we sang happy birthday to yours truly.  And we rejoiced over the best birthday present I ever was given: not having to give my partner any more injections.  Such relief was unimaginable.
What a night, and I rejoiced over the best birthday present I could ever have.