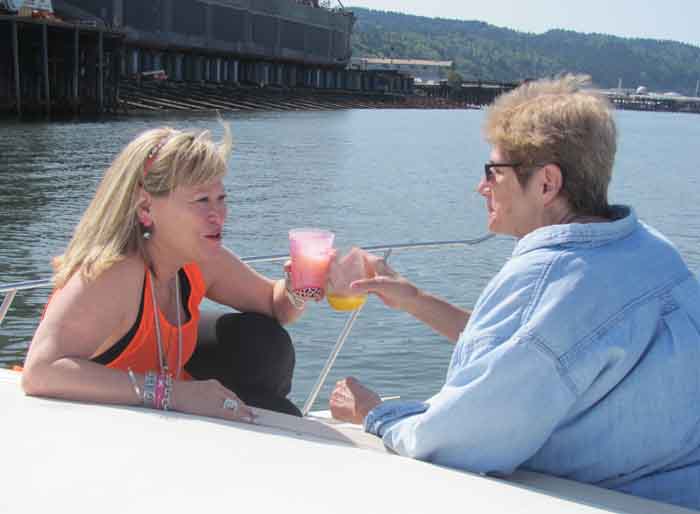 When Alice and I moved to northwest Oregon in September 2014 from Doylestown, Pa., two dear Bucks County friends made us an offer we could not refuse: Remain in close contact via two like-minded folk in Portland.
How lovely!  That's how we stay close to Harry Georgeson, a world-class sculptor and talented architect, and Joan Perkes, an accomplished gallery manager/owner.
We followed up on their offer, and the fortuitous consequences are clearly evident throughout this photographic essay.
Pauletta Sagen Hoffman and husband, Terry, have been in frequent evidence about our lives ever since we arrived.  And after Alice endured her stroke on March 11, they have been Johnnies on the spot.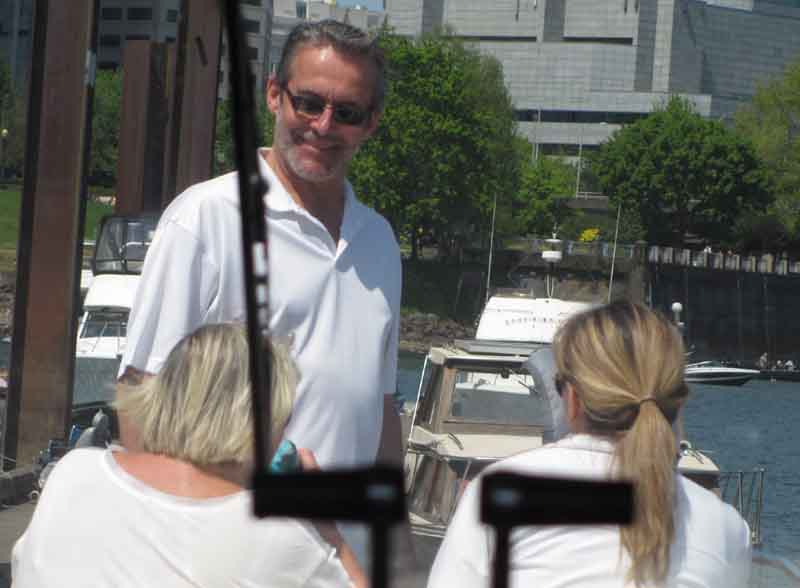 On Sunday, May 3, Pauletta and Terry offered a unique excursion: See Portland from a waterway perspective aboard their 36-foot Chris-Craft yacht to celebrate Cinco de Mayo two days early.  It's safe to say we didn't need any urging.
At noontime on Sunday, May 3rd, Alice and I ventured forth to Portland's RiverPlace yacht basin where we joined our hosts and plus fellow guests of honor, Scott and Diane Chill.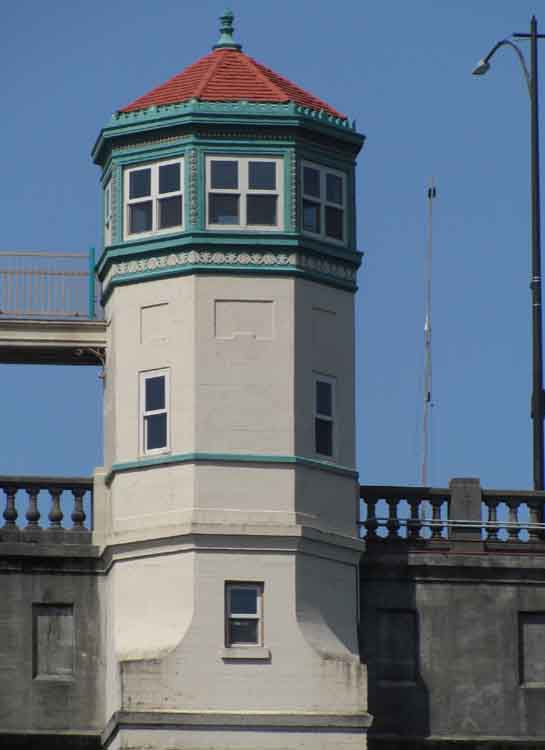 What a divine day!  Skies were sunny, winds were relatively light and temperatures hit the mid-70s, as Terry carefully piloted the yacht into the popular watercraft-laden Willamette River where the vessel's propellers eventually splashed downriver with a Jolly Roger flag leading the way.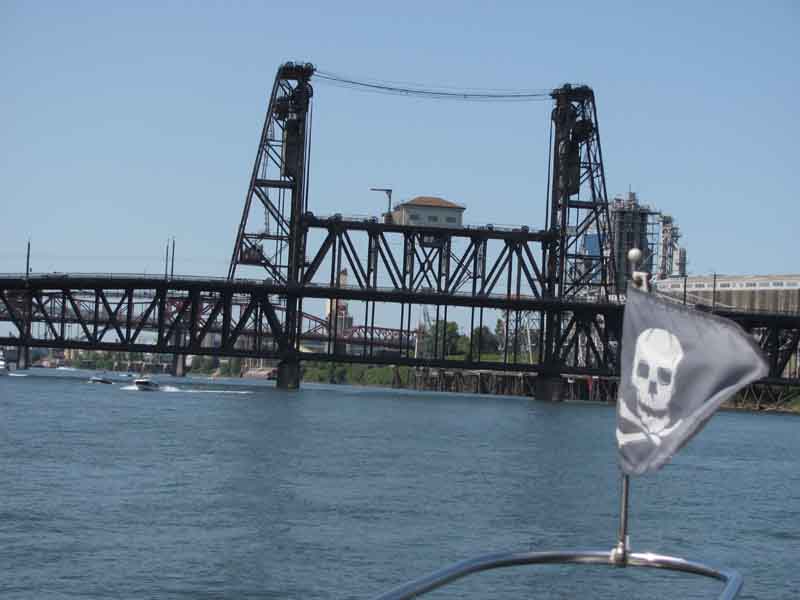 On the water, Terry taught us how boat owners must constantly keep themselves alert to prevailing wind, water currents and impatient drivers to assure all passengers of a smooth, uneventful passage.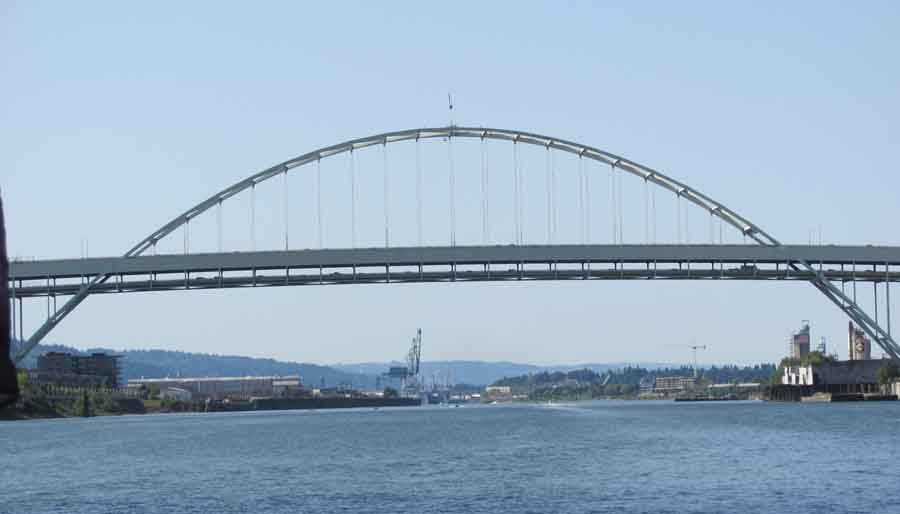 During the five hours we spent on Portland's notoriously polluted Willamette River, the lyrics of a 1949 song resonated appropriately inside my head:
Cruising down the river,
On a Sunday afternoon
With one you love, the sun above
Waiting for the moon.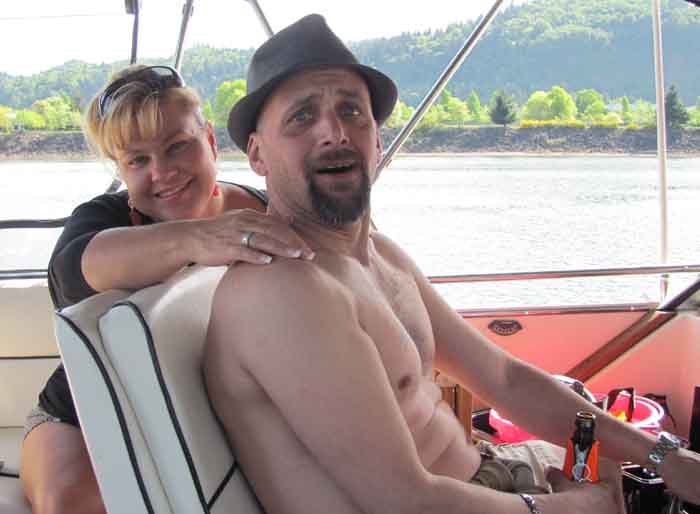 The old accordian playing
A sentimental tune
Cruising down the river,
On a Sundy afternoon.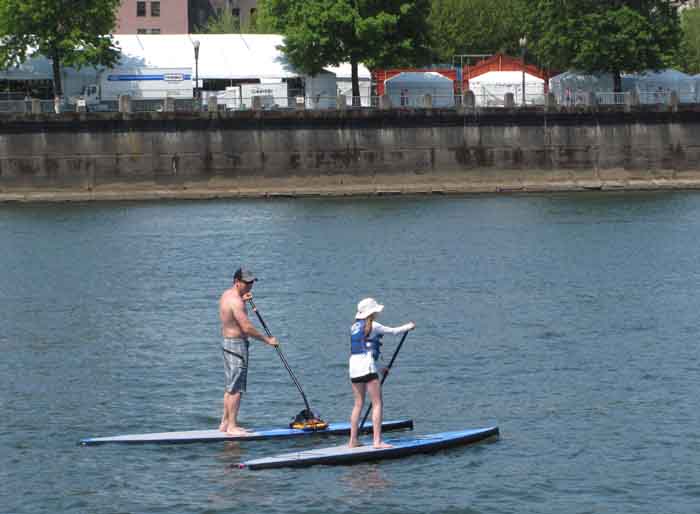 The birds above, all sing of love
A gentle sweet refrain
The winds around, all make a sound
Like softly falling rain.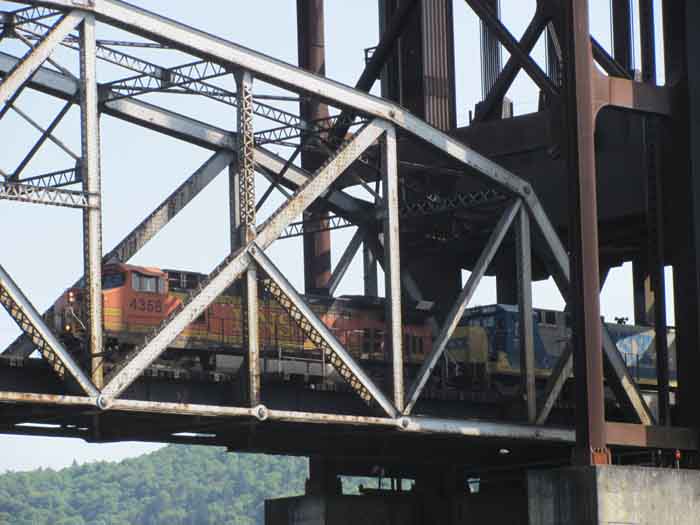 Just two of us together,
We'll plan our honeymoon
Cruising down the river,
On a Sunday afternoon.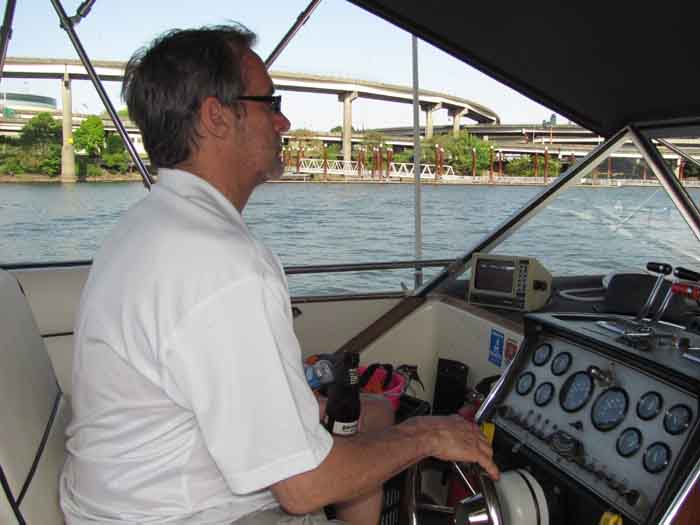 With the cruising done, I can't help but think: If any group can make changes to address the health of our waterways, Portland Rising Tide could.  This Friday, a folk benefit concert will raise funds for the organization to accomplish some lofty goals, including resistance to climate change.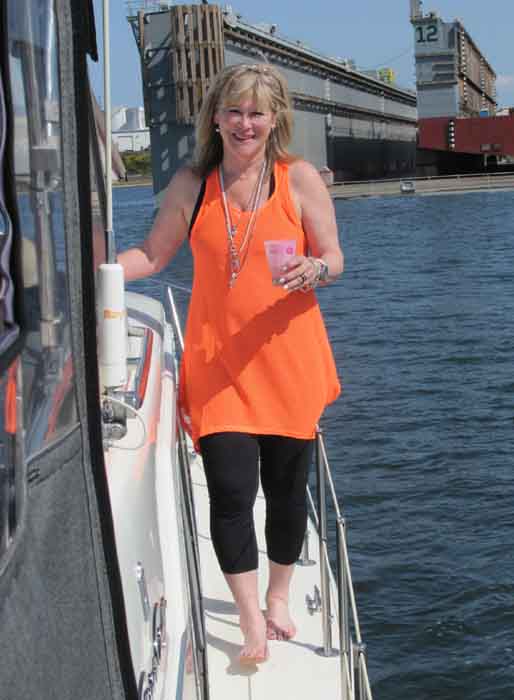 The night kicks off with cellist and folksinger Anna Fritz of the Portland Cello Project, heats up with bluegrass shredders The Wild Wood, and finishes off with a rocking set of Johnny Cash cover songs by a band named Counterfeit Cash.  The venue: Ecotrust at 721 NW 9th Ave Ste 200, Portland.
Here's a link that gives more particulars.   Maybe we'll see you there!