My previous post showed I am writing again. It didn't disclose what memories I uncovered during the fire.
I was knee-deep in creating the book Alice wanted me to write, currently titled, "Confessions of a Boy Soprano." That's when a neighbor fulfilling a relatively pedestrian task – killing weeds – interrupted my progress for more than six months.
The inappropriate tool for the task – a mini-blowtorch – set fire to the townhouse that Alice and I created, and the pleasant ambience she lent was obliterated in one careless act. There is no scent left behind; she is gone. To say I felt vindictive doesn't tell the whole story. During the summer, my feeling of devastation was complete, and interactions with family or relatives reflected anger.
One week short of being declared a Quality Inn resident (five fucking months!), ServPro informed me I could move back home. The repainting and re-carpeting of the entire second floor was complete, and I would be able to use my office and bedroom again. Because the people who cleaned my bedding and anything else cleanable were scheduled to return all contents on Tuesday, Sept. 21st, I made preparations. "I was in high cotton," as my late mother would say.
Even though I never spent the night in the smoke-affected townhouse, I used my unit's washer and dryer every two-three weeks, allowing me to survive on a limited clothes' supply. Therefore, I came back on Monday, a day before all my clothes would be returned, with plans to wash and dry my dirty ones. Once the fire damage restoration service, FRSTeam, would bring everything back clean, I could be set to write again!
No such luck.
When I put my cold-water wash inside the washer, added a Tide pod, turned on the water and listened gleefully to the sound, I breathed a deep sigh of relief.
For only thirty seconds. Thanks to the carpet installer downstairs, my feelings of joy were interrupted.
"There's water coming down the light fixture," he yelled. Feeling panicky, I shut off the washer.
I called ServPro, and Luna immediately showed up to determine the painter had removed the hose from the washer and, after painting the walls and ceiling behind them, had not bothered to replace the hose. No warning, no sign and no person to shield me from doing my wash.
Therefore, another claim had to be filed with Allstate, an employee washed and dried my clothes at ServPro's facility, returned them to the motel, and I was not allowed to return to my condo for another two weeks. This felt like premature ejaculation.
With my tale of woe, and Ned Rauth's demise, that poor man's soul became a visible target to be shunned for my six months of banishment from home. No other significant creative energies, other than micro-managing ServPro, were spent positively.
Today I am left to wonder what effect the act of shunning might have contributed to his demise. If I dare to call myself a Quaker, what should I have done otherwise? Although shunning is regarded as non-violent, could it be considered otherwise? Should I summon my late wife's spirit at Halloween, so I am not to blame?
Of all the comments to my last post, one particular comment affects me most: paraphrasing it says I should be grateful I was not injured and remain in one piece. But something else needs to be reported.
Because of the fire and having all my memories uprooted, I opened a box marked, "Computer & audio-video cables" followed by "Bridge Books." I was ready to throw it out, but to confirm its contents, I opened it.
On top was a cloth-bound Baby Book shown above, which my mother, Thelma Johnston, created on the day of my birth, March 23, 1943. Apparently, it was a tradition no longer the rage during this millennium. My Baby Book contains the movements, measurements and doctor's findings of my first two years of life, accompanied by 1943's Halloween-day declarations by my godmother and godfather.
Underneath is correspondence my father and mother sent one another in the 1940s while he was playing club dates around the country, especially Grossinger's Resort in the Catskills.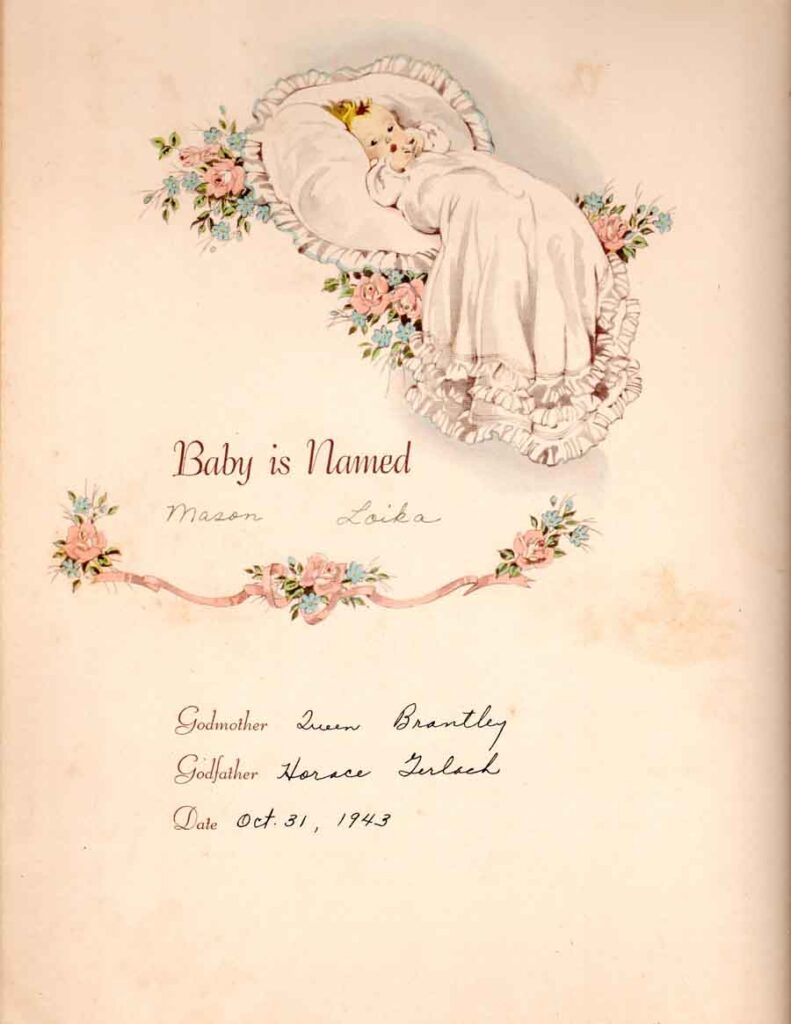 Here are the revelations I discovered in my Baby Book. My godmother was Queen Brantley, a dearly beloved ancestor. But I am stunned to discover my godfather was Horace Gerlach, known to be Louis Armstrong's trusted creative advisor. No wonder I performed Mozart's most famous sonata for Louis himself! My Baby Book is family history preserved.
So yes, I am grateful. How else should I feel knowing the fire could have destroyed such a precious memento? How else should I feel, other than gratitude? I have been blessed.