Take a good look at the photo above.  In 2002, I wrote and co-published my first book, Gulag to Rhapsody by Paul Tarko, and appeared with Paul at book signings.  My name appears on its cover below his, because Paul Tarko's life mirrors an ideal protagonist for my narrative nonfiction account entailing more than 300 printed pages.
Because my father, who took his life when I was 16, had an honorable lineage in Hungary, writing about Paul – 43 years later – reconnected me with my Hungarian/Romanian heritage.
The picture above is apropos, because my purpose in Oregon is to reappear in a similarly posed photo – this time, alone.  Alice brought me here to write another book – this time, about my own life.  "Write what you know best," I once was coached by a writing instructor.  My life is what I know best; accordingly, I am destined to be its sole author.
I am here at the behest of Alice McCormick, who shed tears upon reading my early poetry, calling me a good writer.  Considering how writers/authors must endure a modest existence as part of their nature, I need to use my new location well.
Throughout all our struggles, Alice sees the best in precarious situations, and this attitude tempers my dark depression when it comes to our finances.  Whether it's blissful unawareness or an unwillingness to comprehend simple math, she answers frequent moods of bottom-line depression with the kneejerk retort, "Well, everyone is in debt."
I find her logic difficult to refute.  Her steady, rosy attitude snaps me out of darkness, because I am forced to dampen a torrent of fierce impatience.  Brightening my mood remains a constant challenge for her.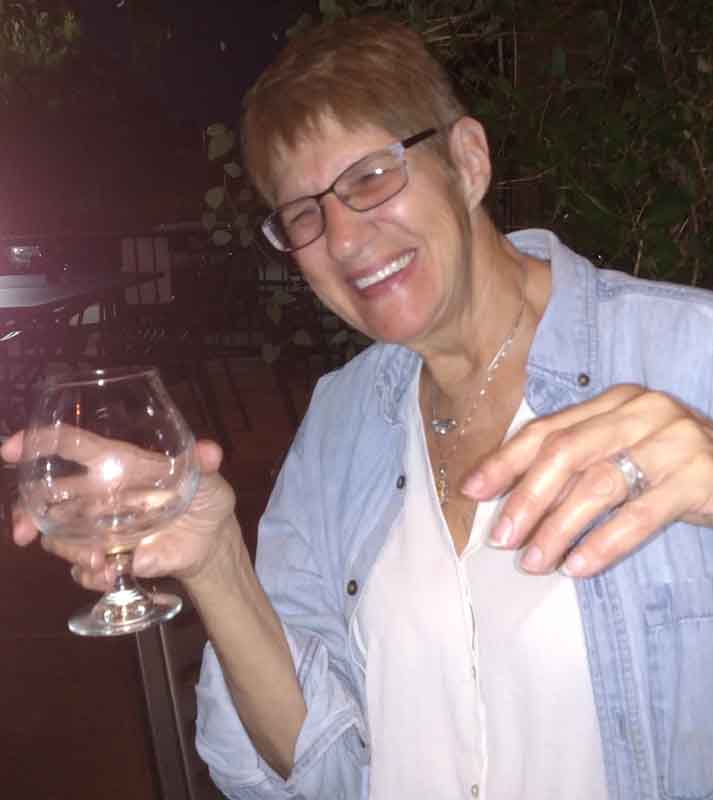 Sometimes, I make her laugh.  Other times, I frustrate her and exasperation leads into loquaciousness; on occasion, she expresses an emotional soliloquy without the usual speech aphasia frustrations from her stroke in March.  Whenever she appears to take one step back, she advances two steps.  And I rejoice!
I unintentionally piss her off for such breakthroughs to occur.  But I fervently wish our exchanges would not be so tempestuous, because emotionally they're hard on me.
The last five weeks were a challenge.  I spent five days a week as an Uber driver beating the bushes for passengers in Portland, and at times its well-publicized phenomenon appeared to be slacking off.  Uber continues to seek more drivers, diluting demand; in its defense the "ride-sharing" service is also lowering the wait time for passengers who order its transportation on their smartphones.
The influx of revenue has enabled us to build up the required security deposit to move to an affordable apartment with a year-long lease.  And last week, I secured the funds to hire someone to move our possessions.
These added resources come with a heavy price, though.  Most days I am no longer home to work with Alice on speech exercises, so her path forward becomes lonely and treacherous.  She misses our camaraderie and stays to herself.
Creator gave me Alice.  Every time I get too full of myself, she brings me back down to size.  My head often gets too big for such a fragile body, so it seems like it's her mission to make my personality tolerable.
Alice brought me to Oregon with a purpose: She would work in childcare, and I would write my next book.  Two weeks ago, the Hillsboro manager of KinderCare gave Alice a regular two-hour-a-day morning shift five days a week, and she began managing the babies and infants there with playful enthusiasm.
We are trying to lessen how much I drive, so I can be here to support Alice's recovery while renewing a regular daily writing schedule.  There is much work to do to create a book about myself and my family background.  The pages on this website entitled "Virgil's Story" are a sample of what is to appear in print.
In early August, Alice received a financial token of support from her best friend to help us.  We acknowledge the feelings expressed, and we promise to keep moving forward.
I have a working title for the book, which has been shared with only a few.  My close confidantes express support for the project, but it's up to me to write the book and get a prospective publisher excited.
I wish I could wave a magic wand and proceed with the confidence that comes with following a well-traveled plan of action.  But every day offers a new challenge, so both of us keep putting one foot in front of the other.
For the next couple weeks, this website will not be updated until our move to new digs is complete and Internet service reestablished.  Stay tuned.